Ceramic Braces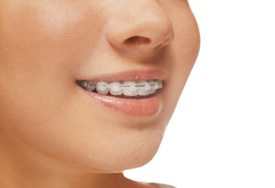 What at are ceramic braces?
Ceramic braces are basically the same as the traditional metal braces you know and orthodontists love — the main difference being that they're made from a clear or tooth-coloured ceramic material so they blend in better with your teeth. While not completely invisible, they are less obvious than their metal counterpart.
As a general rule ceramic braces are only used on the top teeth.
Advantages of ceramic braces
Ceramic braces can be provide discreet treatment for severe malocclusion that clear aligners may not be able to offer
Their ability to match tooth colour means they're often not visible from a distance
Ceramic braces are super strong. While metal braces use a tougher material, ceramic braces are engineered in such a way that they are just as strong
How long is treatment with ceramic braces
When it comes to treatment, no equipment is faster — it all comes down to the patient. People using clear aligners could experience shorter treatment times, but usually because they have less severe malocclusion. The good news is that ceramic braces won't take any longer than any other treatment.
Ceramic braces vs Clear aligners
The rise of clear aligner treatments (such as Invisalign, ClearCorrect and OrthoCaps) have piqued the interest of many adults who don't want everyone to know they're correcting their bite. However, while clear aligners are an attractive option for image-conscious adults, they're not suitable for use in all cases.
For example, you may not find clear aligners suitable if you have large gaps between your teeth or if you would require the removal of teeth as part of your treatment. Ceramic braces, on the other hand, are capable of performing the same complex tooth movements as traditional metal braces — the only difference being their materials.
Caring for ceramic braces
When undergoing treatment with ceramic braces, your care instructions are basically the same as with traditional braces. This includes how you clean your braces and the foods that should be avoided until your braces come off. One big difference is that you should limit your intake of food and drinks that have the potential to stain the ceramic materials, such as coffee and red wine.
Want to Learn More?
To discuss ceramic braces further with our professional orthodontist, please schedule a consultation with Harmony Orthodontics today!

Ceramic Braces Riverton, Willetton, Narrogin, Perth WA | 08 9354 1080