Traditional Metal Braces
A Straighter Smile, the Traditional Way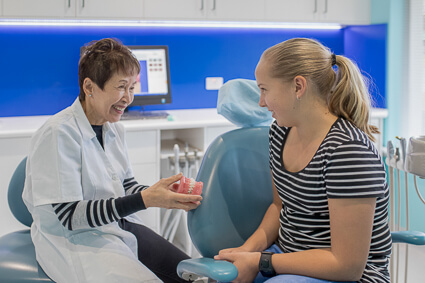 There's many reasons why braces are a popular orthodontic treatment among patients.
Not only are they highly effective at correcting tooth misalignment and bite, but they're also a tried-and-tested procedure for helping you achieve the straighter, more confident, and stunning smile you deserve.
Because Harmony Orthodontics specialises in, and focuses purely on orthodontics, you can be assured that our professional team offer unrivalled experience and expertise within this field. We've fitted hundreds, if not thousands of patients with braces, and have produced successful and stunning results every time.
Are You a Candidate for Braces?
Are you (or your son or daughter) thinking about getting braces? You may be the perfect candidate for this treatment if you're experiencing any of the following concerns:
Crooked / misaligned teeth
Excessive gaps between teeth
Twisted teeth
A misaligned jaw (including overbite and underbite)
Periodontal (gum) problems due to tooth misalignment
Poor oral health and hygiene due to tooth misalignment
During your initial consultation, our orthodontist will thoroughly assess your mouth, teeth, and jaws to determine if braces are the right treatment for you.
Types of Braces Offered at Harmony Orthodontics
Because Dr Manaf is highly-qualified and experienced within all areas of orthodontics, we are able to offer a wide variety of braces to suit every patient's individual needs. These include:
Traditional metal braces: These braces use fixed metal brackets and wires to realign teeth. While they were once associated with big, bulky appliances that were anything but flattering, today's metal braces have come a long way. Not only are they much smaller, but they're also created to perfectly fit a patient's mouth.
Ceramic braces: These braces are also quite similar to traditional metal braces in size, shape, and the way in which they work, yet their brackets are made from a tooth-coloured, or clear ceramic material to blend in more seamlessly with a patient's smile. In some cases, tooth-coloured wires are also used, resulting in an even less noticeable appearance.
Want to Learn More?
Do you wish to discuss any of these braces listed above with our professional team? Please call 08 9354 1080 today to schedule an initial consultation with Dr Manaf!

Dental Braces Riverton, Willetton, Narrogin, Perth WA | 08 9354 1080